Products
We offer a variety of prefabricated, preinsulated piping products to meet a wide range of applications.
Need help determining which Tricon Piping System is right for your application? Use our Selection Guide.
Tricon Insulated Pex
---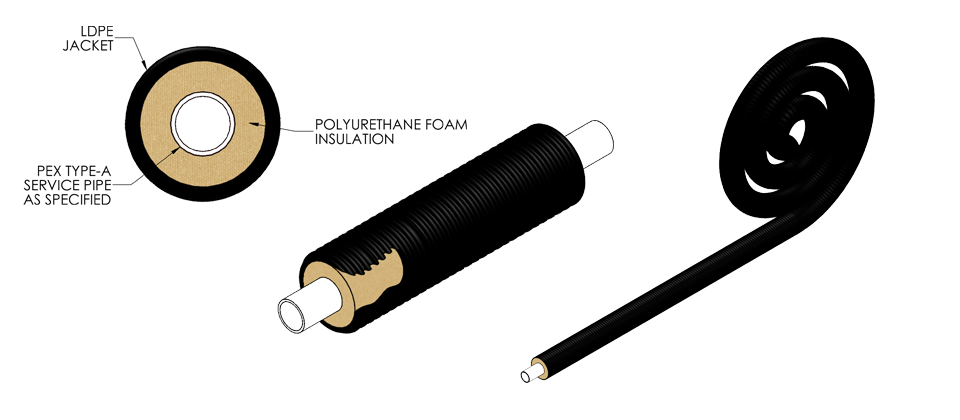 Tricon Insulated Pex - View 1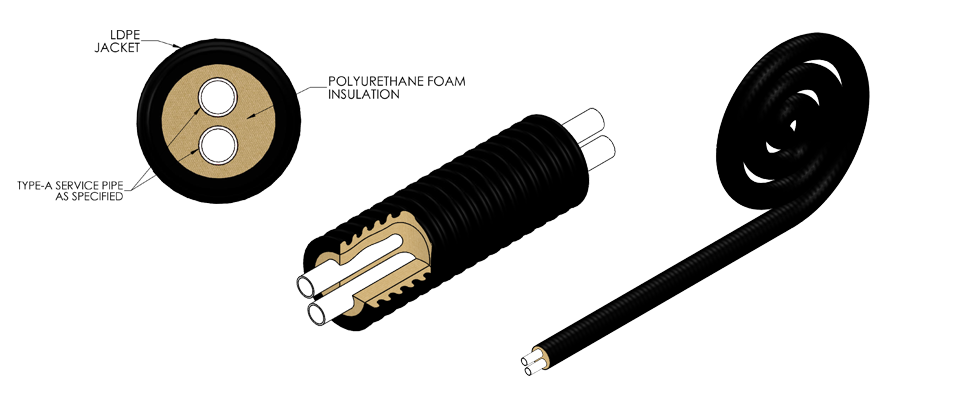 Tricon Insulated Pex - View 2
---
Overview
Application:

Chilled Water, Potable Water

Service Pipe:

Cross Linked Polyethylene (PEX)

Insulation:

Polyurethane Form
Temp:

Up to 200°F (93°C)

Nom Length:

Standard 328 Ft Long Coiled Lengths
---
System Specifications
Product Information:
PexFlex pipe are flexible, pre insulated pipe systems with a complete range of fittings and joints in all available pipe dimensions. The semi-flexible polyurethane foam with its closed cells has a high insulation value, is Freon free and environmentally friendly. The foam is molded directly around the carrier pipe, followed by extrusion of the jacket; no spacers are required, therefore thermal bridges are eliminated.
A proprietary Polymer membrane is incorporated between the PUR foam and PE outer jacket to avoid the migration of cell gases through the jacket over the long term. This foil material is made up of a special polymer with PEL adhesive on both sides, bonding the foam to the casing. The smooth polyethylene (LDPE) jacket is strong and is able to resist any impacts or blows incurred during transport or installation. The jacket pipe is resistant to both high and low temperatures and is UV treated. In the solid-foamed flexible system, the carrier pipe, polyurethane foam and LDPE jacket pipe are bonded together, eliminating the risk of water penetration along the carrier pipe. In operation, the system is held in place by the soil friction. The plastic properties of the Pex carrier pipe is utilized to absorb thermal expansion, consequently these Pex pipes are self compensating and expansion need not be considered. The PEX carrier pipe features an EVOH external oxygen diffusion barrier, which prevents oxygen from diffusing into the water. The PEX-A carrier pipe is also NSF61 certified and suitable for potable/sanitary water applications
Tricon Insulated Pex is ideal for applications that include heat transfer for:
Snow and Ice Melt Systems
District heating
Hydronic piping
Process piping
Marine piping
Single Tricon Insulated Pex (One Pipe)
A single cross-linked polyethylene (PEXa) pipe with an EVOH oxygen diffusion barrier.
Available in pipe sizes from ¾" to 4" nominal OD (25 to 110 mm).
Double Tricon Insulated Pex (Two Pipes)
Two cross-linked polyethylene (PEXa) pipes with an EVOH oxygen diffusion barrier. Pipes are insulated from each other.
Double Tricon Insulated pex combines supply and return pipes in one for faster installation in a smaller trench.
Available in pipe sizes from ¾" to 2" nominal OD (25 to 63 mm).
PEXFLEX Fitting System
Tricon offers top quality brass compression or PRESSFIT fittings in a wide variety, such as: T-couplings, reducers, PEX to PEX couplings and PEX to threaded couplings. When connecting to NPT thread, metric to NPT thread adapters are also offered.
Temperature-Pressure Ratings:
54 psi (3.7bar) @ 230°F (110°C)
80 psi (5.5bar) @ 212°F (100°C)
99 psi (6.8bar) @ 195°F (90°C)
109 psi (7.5bar) @ 175°F (80°C)